Types of Roman Shades in Mandeville
---
---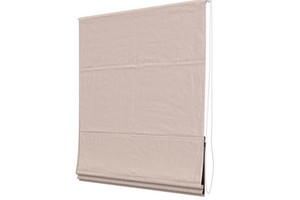 One of the first things that you are likely to realize, once you delve into the world of window treatments, is that there are several different kinds. In fact, even within each category there are sub-categories as well.
Roman shades are the perfect example of this. So before making a decision about which window covering you want, make it a point to understand all of your options first.
Roman Shades: Which One is Right For You?
Window treatments of any kind have a big impact on the look and feel of your interior as well as exterior aesthetics. Simply put, Roman Shades are window coverings made of fabric panels. These panels are adjusted with a cord system and lay flat when closed or folds upon folds when opened.
Some common types of Roman Shades include:
Unconstructed Flat Romans – This is the most basic of styles; made up of one single piece of fabric without back bars or extra panels. They are available in a wide variety of colors and patterns.
Constructed Flat Romans – Similar to unconstructed except that it is made of multiple fabric panels which are sewn together and then backed with bars. This reinforces the fabric and makes it more durable but takes away some of the draping element Roman shades are known for.
Balloon Romans – The basic design is that inverted box pleats are utilized at the top to create delicate scalloping at the bottom. The look is dramatic and should be used carefully. This is also not the ideal choice for every day use; they are more about decoration than function.
Relaxed Romans – As the name implies, this is a relaxed and casual type of window covering. While this style still exudes class, it may not work well in every type of interior design.
Tucked or Pleated Roman Shades – Uniform folds give this a more structured look as opposed to loose and relaxed. It offers both a rigid but Zen-like aesthetic that is likely a result of the Asian influence in looks and design.
Some other common styles to discuss with your industry expert include Austrian, Butterfly and Faux.
Getting Expert Advice
If you live in Mandeville or surrounding areas, the only name that you need to know for window treatments is All About Blinds & Shutters. Implementing this additional element into your interior décor means adding depth. However, they are decisions that should be made carefully so make it a point to only work with a reputable and established Mandeville shades, blinds or shutter installation professional.
If you are looking for a window shades, blinds or shutter installation company then please call 985-727-1525 or complete our online request form.