Elegant & Simplistic Roman Window Shades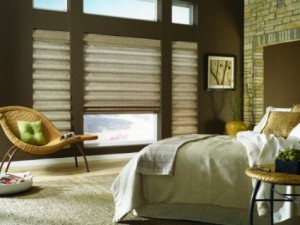 Roman window shades can add class to any room; simplistic and elegant in their features. Roman window shades are an ornate layer of fabric with billowing folds. While various fabrics are valued at different amounts, these simple window treatments are very affordable compared to many other covering options. Whether you are looking to touch up a single room or you want to add style to your entire interior, Roman shades have a lot to offer.
All About Blinds & Shutters offers the highest quality Roman window shades around. We have proudly beautified countless St. Tammany homes with Roman shades for the past fifteen years and we do that by working with only the finest manufacturers. Our vast selection of materials, textures, colors and patterns is of superior quality, so you can rest assured your window coverings will be durable as well as beautiful when you get them from us. Let us show you the different types of Roman Shades.
Affordable Roman Window Shades Enhance Any Room
Roman shades are a simple piece of fabric that folds into deep pleats. The fabric can be minimalistic or ornate. The folds can billow or be clean and sharp. The shade can have patterns or texture or it can be plain. In any case, Roman shades always provide a look of elegance with a timeless feel. These shades originated long ago as a way to provide protection from the sun as well as decor. Often these shades sat in dwellings of lavish design, so they are made to be stunning, despite their simplistic design.
At All About Blinds & Shutters we strive to offer the highest quality window covering services in St. Tammany. We offer superior grade Roman shades and expert installation. We also have talented designers on staff that can help you determine the perfect shades for your interior. When you call us, we'll bring the showroom to your door, so you won't have to travel anywhere. We bring you our Roman shade samples, and let you see what they look like against your windows and your current design. Our helpful designers will make suggestions and work with you to find the right shades at the right price that meet your needs and budget. After measuring your windows to ensure a custom fit, we'll schedule an installation. You don't have to lift a finger. Just sit back and enjoy the look of your gorgeous Roman shades.
Our Roman Shade Services
Roman Shade Installation
Roman Shade Design Consultation
In-Home Shopping
Vast Selection of Roman Shades
Recent Articles
Roman Shades for Your Pochatoula Home

Deciding on the perfect window blind design to fit your Pochatoula home? Look no further because Roman shades are just the blinds that you might be looking for. What do Pochatoula Roman shades exactly look like? These are shades that are generally made from woven fabrics that can be lowered down in a cascading fashion.…

Read More

Types of Kenner Roman Shades

Fabric Roman Shades in Kenner combine the softness, warmth and beauty of fabric drapery with the tailored look and function of a shade. Raise them for an open view to the outside, or lower them when you want privacy and light control. Choose a Hobbled design and enjoy a classic look with billowing folds cascading…

Read More

If you are looking for Roman Window Shades then please call 985-727-1525 or complete our online request form.