Naturalistic Woven Wood Shades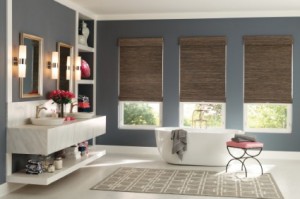 All About Blinds & Shutters is pleased to offer woven wood shades as a naturalistic and welcoming window treatment that is being used in corporate offices and in homes all over St. Tammany. One of the important materials that is used to construct these shades is bamboo and that's why woven wood shades are also known as bamboo shades. Are materials used are jutes, reeds and rattan. When these shades are raised the shade materials are typically rolled up or gathered in folds. Woven woods provide moderate sun blockage and privacy while creating a relaxing atmosphere.
At All About Blinds & Shutters we work with the finest manufacturers in the industry, so our selection of woven wood shades is vast and of superior quality. Most people, when they think of woven wood shades, think of the thin, tan bamboo shades that are the standard look. However, advancements in the design allow woven woods to now be virtually any color and with patterns and textures printed on them as well. That way, your woven wood shades can complement a country style home or a board room. That is why people love woven wood shades from the number one window treatment professionals in St. Tammany, All About Blinds & Shutters.
What are Woven Wood Shades?
A woven wood shade is a window cover or blind that covers the windows to protect against the negative effects of the intense sunlight during day time. It also provides privacy to the people in the house. These shades are available in different shapes, sizes and colors. These shades can be constructed with a roll up system, lift system and continuous loop system. They are made up of reeds, grass, bamboo and number of other natural elements. These natural elements tend to bring an atmosphere of the outdoors inside the home, which is one of the greatest appeals of woven wood shades. Natural looking elements tend to easily complement most design themes.
The other great appeal is that these shades are typically affordable. While more ornate woven woods can be a bit pricier, the materials used to make them are inexpensive, so overall they tend to be more affordable than other window coverings.
If you are looking for a cost effective way to transform the look of your sunroom or dining room, woven woods are a great option. You can create a relaxing environment that is warm and welcoming for everyone. Whether you have a country style in your home or an elegant and refined look, woven woods can enhance any room.
Our St. Tammany Woven Wood Shade Services
Woven Wood Shade Installation
Woven Woods Design Consultation
In-Home Shopping
Wide Variety of Woven Wood Shades
Recent Articles
Why You Have To Consider St. Tammany Woven Wood Shades

Remember those old woven wood shades? When you wanted to raise one, you had to roll it up by hand like a huge burrito and then, while holding the unruly beast in place, secure it with a hand-tied knot. There were virtually no colors to choose from, and matchstick bamboo was practically the only style.…

Read More

If you are looking for Woven Wood Shades then please call 985-727-1525 or complete our online request form.