Premium Solar Shades for Protection & Beauty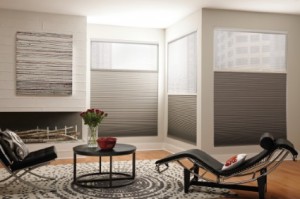 Solar window shades protect against ultra violet radiation, keep heat and sunlight out, prevent the fading of furniture close to windows, cut electricity costs both in the summers and winters and reduce the glare caused in the day on TV sets and computer monitors etc. These are just a few reasons why solar shades are a must have in any St. Tammany household. Advancements in technology also offer automatic, powered sliding and folding-unfolding solar shades. If you are looking for window treatments for your St. Tammany home or office, solar shades are a great choice.
All About Blinds & Shutters works with the finest manufacturers of solar shades, so we have a vast selection of high quality shades to choose from. We have proudly provided design consultation, shade selection assistance and installation to countless home and business owners in St. Tammany over the past fifteen years. Our team is professionally trained and highly skilled, possessing the experience and tools necessary to ensuring you have the perfect solar shades for your home. That is why we are the top choice in St. Tammany for solar shades.
Benefits of Solar Shades
There are many reasons why you should consider solar shades as your primary window treatment. Solar shades are made from material specifically designed to block sunlight and UV rays while also contributing to the aesthetic design of your interior. That means, solar shades keep out heat in the summer, keeping the space comfortable and free of excess heat and glare. Solar shades also block harmful UV rays from damaging or aging your furniture and flooring. The insulation they provide keeps your HVAC system from straining, so you conserve energy.
The biggest benefit, however, is that even though they block so much coming from outside, solar shades still offer a clear view of the outside. These sheer shades still provide moderate privacy but diffuse light, creating a soft ambiance which enhances the environment in a room.
If you are considering solar shades, you need to call the window treatment experts from All About Blinds & Shutters. We won't make you come out to a showroom, but instead we'll send a designer to your home to show you samples. Solar shades come in a wide range of colors and opacities, and we can show them all to you right there against your current design features. That way, you can determine which shades are the absolute best for your home or office. Then, we'll measure your windows to ensure a custom fit and schedule an installation. You won't have to lift a finger as we'll send out an installer at your convenience to hang all of your solar shades. All you have to do is sit back, relax and enjoy your beautiful and functional new window coverings.
Our St. Tammany Solar Shade Services
Solar Shade Design Consultation
Solar Shade Installation
In-Home Shopping
Custom Solar Shade Fitting
Recent Articles
Why You Want St. Tammany Solar Shades In Your Home

Choosing the right set of blinds for your home can be a daunting, nerve racking task. Depending on what is important to you (e.g. privacy, light control, aesthetics) will determine the right type of blinds for you. One set of blinds that have rose in popularity, due in large to the 'Green Movement', have been…

Read More

Solar Shades for Mandeville Home and Office

There are a wide variety of Mandeville solar shade products. You're sure to find a high quality, beautiful and highly functional solar shades that meets your home and business needs. Solar shades are available in a variety of densities and colors which can provide solar protection along with reduced glare and brightness on work surfaces…

Read More

If you are looking for Solar Shades then please call 985-727-1525 or complete our online request form.