Quality Polywood Blinds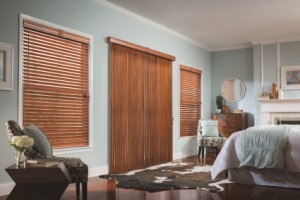 Polywood blinds are a very popular window treatment in St. Tammany. Made from a moisture-proof PVC that will not warp or fade, these durable blinds are beautiful and long lasting. They are perfect for our area's heat and humidity. They too are available in 2" or 2 1/2 "louvers and a variety of trim colors. When our polywood blinds are installed with a decorative valance they look and perform just like our wood blinds at a significant cost savings. You will love your St. Tammany home with custom blinds for all of its windows.
All About Blinds & Shutters has proudly provided countless St. Tammany homes with the highest quality polywood blinds over the last fifteen years. We work with the finest manufacturers so our selection of polywood blinds is vast and of superior quality. We have a virtually limitless stock of colors and stains and our installers are professionally trained. We always extend prompt and courteous service and that is why we are the top choice in St. Tammany for polywood blinds.
Enhance Your Windows With Polywood Blinds
Not only do new polywood blinds (faux wood blinds) enhance the look of your windows, they also do not "break the bank." If you want the look and feel of wood blinds in your St. Tammany home, but don't want to spend that much money, then these decorative blinds are for you. Aside from the cost savings, these durable blinds are practical for different households and rooms. For example, the moisture resistant nature of polywood blinds works perfectly for bathrooms and kitchens, where moisture is common. Also, these blinds can take more abuse, making them ideal for households with children and pets.
If you are looking for an affordable way to transform your interior, polywood blinds are the way to go. These stunning window treatments will enhance your décor, breathe life into your design and all on a budget.
When you call All About Blinds & Shutters to explore what polywood blinds can do for your home, we'll send a trained designer to your door with a mobile showroom full of samples. That way, you can see the look of the blinds against your décor, giving you a clear view of what the design will look like. Our professional designer is also able to give helpful suggestions to assist in determining the perfect blinds for your home and budget. When you find the right window treatments, we'll measure your windows to create a custom and perfect fit. Then we'll schedule an installation, so all you have to do is sit back and enjoy your beautiful new polywood blinds.
Our St. Tammany Polywood Blind Services
Polywood Blind Design Consultation
Polywood Blind Installation
In-Home Shopping
Variety of Blind Finishes
Recent Articles
Slidell Window Blinds Which One WIll You Choose?

Among the parts of the house that many Slidell home owners would frequently modify are the window blinds. Some would redecorate or renovate the whole house and then change the blinds to fit the new look of the entire house. Some would simply change the look of the windows because of the changes in the…

Read More

Advantages of Slidell Polywood Shutters

Polywood Shutters can offer your Slidell house with more protection and safety, and it is highly useful in several other ways. They are free from chemicals, as they come directly from nature and thus act as eco friendly system. Shutters that are made of plastic might release hazardous gasses, when they become old or when…

Read More

If you are looking for Polywood Blinds then please call 985-727-1525 or complete our online request form.