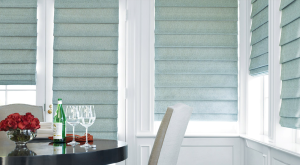 Fabric Roman Shades in Kenner combine the softness, warmth and beauty of fabric drapery with the tailored look and function of a shade. Raise them for an open view to the outside, or lower them when you want privacy and light control.
Choose a Hobbled design and enjoy a classic look with billowing folds cascading the shade's length. Select a flat style that provides a tailored look as the panels hang smoothly when lowered and gather evenly when raised. A relaxed Roman Shade is a style that lies flat with a gentle "smile" at the bottom when lowered, and billows up in soft gathers when raised. There is also the London Shade which is an elegant alternative to the standard Roman Shade. The London Shade lies flat with folds at the bottom approximately 10″ in from each side.
The Fusion Insulating Roman Panel Shades by Comfortex combines the insulating benefits of a cellular shade with the beauty of drapery style fabric to offer you a product that is as functional as it is beautiful. Horizontal fabric panels hang smoothly over a double honeycomb cellular liner and when raised, the panels nest neatly behind one another.
Kenner Roman Shades made with the Persona program, also by Comfortex, allows you to personalize your window shades with your choice of any combination of colors, patterns and textures. You can even have your shades made with your own custom graphic.
There is also the Hunter Douglas Vignette Modern Roman Shades. They consistently present a clean, neat appearance. Beautifully designed front and back without cords, grommets, or gathers. The soft overlapping fabric folds give them their uniquely elegant styling. Combining the classic look of a custom drapery with the utility of a roller shade, vignettes are concealed inside a fabric-covered fascia for a completely uncluttered look when raised.
These shades are available with the Top-Down/Bottom-Up, motorized, and other advanced lifting systems. There are hundreds of fabrics to reflect your personality and lifestyle from formal to contemporary, Natural, or Romantic. For that time-tested warmth and soft feeling, Roman Shades may be the perfect answer to your window covering needs.