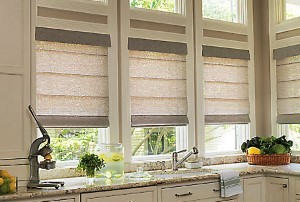 If you are thinking about redecorating and have decided on new window treatments, you will need to choose whether you wish to buy stock treatments, or custom window coverings. The first difference you will notice between these two is the cost. Custom window shades are considerably more expensive than stock ones. This is because stock ones are made in a factory to a standard size made from a standard fabric. This is a good choice if you are low on funds or don't care too much about the originality of the room to be redecorated.
But what if you do want custom Metairie window treatments? Why should you bother? Isn't saving the money better? Not always. Some people and some rooms just need a custom window covering. This is most especially true if your windows are not of a standard size. If this is true, then you will absolutely have to get custom window treatments because otherwise nothing will fit!
With a Metairie custom window covering, you can pick out any fabric you choose. Do you really want your window to match your couch? While I don't recommend that, if you know the source of your couch's upholstery fabric than you can do that. You can get much richer fabrics this way.
Another great thing is you can choose the style. For example, with Roman shades, there are two folding styles, teardrop and normal. These both give the room a different feel. You can combine your choice of folding style with fabric choice to get a custom window covering that no one else has.
You can also choose how the shade is going to open. Usually your choices are manual or motorized. Most people are fine with manual, but if you are looking for that little something extra, you may want to spring for the motorized.
As you can see, custom Metairie roman shades are the only way to go for many homeowners. Be sure to keep in mind all of your options and speak to several experts. Almost every window covering store has at least one expert working there who will advise you with no obligation to buy- so what can it hurt! Find pictures online and research fabrics, be sure it all will go with your current room or your planned design. Nothing's worse than purchasing custom window coverings which you won't use! Just remember since they are custom, if you don't like them you cannot return them!
Learn more about Window Treatments: Roman Shades
Go to: http://www.windowtreatmentsromanshades.com
If you are looking for a Metairie roman shade company then please call 985-727-1525 or complete our online request form.