Blinds, Shutters, & Shades For Light Filtering
---
---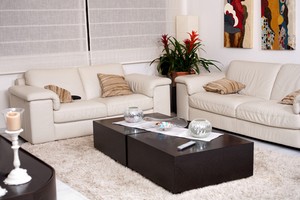 You may deign to appreciate the direct heat and bright light that flows through windows facing direct sunlight. While light from the sun is often welcomed in your home, it can spoil everything in a variety of ways.
The heat coming through your windows will make your air conditioner work harder, raising your energy bills. UV rays can cause your carpeting and artwork to fade, your woodwork to dry out and crack, and your flooring to get discolored. And, it's not good for your eyes.
The heat from the sun actually travels on infrared radiation, which is just one part of the light spectrum. With today's technological breakthroughs, there are fabrics and materials that are made to block out the heat while still allowing the light through.
If you have rooms that you would like to darken, you can also find light filtering window treatments that filter both light and heat. You have options to block natural light and heat wherever it's too bright.
Cellular Shades, Solar Shades, and Blackout Shades
Cellular shades, blackout shades, and solar shades come in different types of materials depending on how much light and heat you wish to block.
We have supreme blackout shades that are great when you're trying to sleep during the day.
Solar shades provide UV protection that can help you keep your energy bills down and protect your furnishings.
Cellular shades come in honeycomb shapes, which helps to trap heat in between the layers. They can block out nearly all harmful UV rays so your furnishings, carpeting, woodwork, and more stay protected.
All shades can be installed on a track and fitted with wireless technology so you can operate them with a remote control or your smartphone.
Shutters And Blinds Give Some Light Filtering Options
In general, shutters and blinds don't block out as much as a window shade would but they do still offer a significant amount of light blockage. Window shades easily open and close so you can adjust just how much light comes through.
While shades can only be pulled down or left open, you can adjust blinds and shutters partially whenever you want throughout the day or night.
No matter which window covering are considering, let our design professional come show you some quality custom window treatments in the comfort of your own home! Call All About Blinds & Shutters and we'll help you find just what you're looking for!
If you would like more information on Blinds, Shutters, & Shades in the St. Tammany Parish area, please call the experts at All About Blinds & Shutters at 985-727-1525 or fill out our online request form.