Metairie's Best Shutters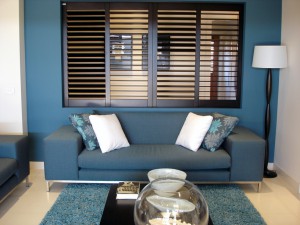 If you are looking for the best way to enhance your home's interior without spending a lot of money or enduring heavy construction, shutters are the way to go. Covering your windows with shutters provides both practical and aesthetic advantages. Shutters offer full window coverage, giving you excellent privacy and light control while also contributing to your décor. Metairie Shutters come in a wide variety of styles, colors and finishes, allowing for versatile customization options. For the highest quality shutters you can find in Metairie, All About Blinds & Shutters has you covered.
We have proudly provided Metairie residents with the best shutters and shutter services for the past fifteen years. We work with the finest manufacturers, so our shutters are of superior quality. We have a talented team of designers that will work with you to find the perfect shutters for your space and your budget. We also provide expert installation performed by our professionally trained installers. We offer prompt and courteous service on every job and that is why we are the number one choice for shutters in Metairie.
Our most popular shutter option among Metairie homeowners is the plantation shutters. Plantation shutters offer a classic and timeless look that will never go out of style. They enhance any design, whether it is modern or traditional. They lend a warm and relaxing sophistication to any space, making it look both comfortable and refined. If you would like to learn what plantation shutters can do for you Metairie home, call us today.
Premium Blinds & Shades in Metairie
Shutters may have a lot to offer a home's windows, but their design isn't ideal for everybody. For many homeowners and business owners looking for a more compact and simplistic design, blinds and shades are fantastic window treatment alternatives. All About Blinds & Shutters strives to be a complete resource for window coverings to Metairie residents, so we have several blind and shade options to choose from. All of our window coverings are made from the finest material and provide long-lasting quality that will increase the value of any building.
At All About Blinds & Shutters, we offer real wood and polywood blinds. Our real wood blinds come in a variety of wood types, each offering a unique wood grain pattern for a rich character that will lend elegance to any space. Our polywood blinds are durable and moisture resistant, coming in virtually any color. These blinds are perfect options for bathrooms and kitchens, where excess moisture could warp and damage real wood blinds.
We also offer Roman shades for a stunning and somewhat opulent appeal. These simple shades are ornate and gorgeous, coming in a variety of materials, patterns and colors. We offer practical and efficient solar shades. These shades are minimalistic in design, but they block out harmful UV rays and heat, providing energy efficient insulation while protecting your furnishings. For a more outdoorsy feel, we also offer woven wood shades. These "bamboo blinds" lend a naturalistic ambiance to any Metairie interior. So be sure to call All About Blinds & Shutters for all of your window covering needs.
Recent Articles
Advantages of Slidell Polywood Shutters

Polywood Shutters can offer your Slidell house with more protection and safety, and it is highly useful in several other ways. They are free from chemicals, as they come directly from nature and thus act as eco friendly system. Shutters that are made of plastic might release hazardous gasses, when they become old or when…

Read More

Why Use Solar Shades in Metarie?

You experience heat coming right through your Metarie windows. You need to add something to block away the heat and you can do that by adding solar shades. When heat is minimized, expenses for electricity are also cut down. Solar shades prevent sunlight from hitting the glass of your windows. This is helpful if the…

Read More

If you are looking for a Metairie Blinds and Shutter Company then please call 985-727-1525 or complete our online request form.