Robert Blind & Shutter Company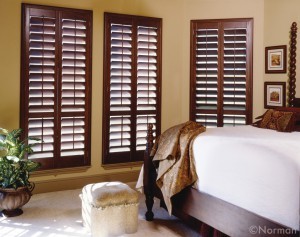 Are you tired of coming home from work to relax but only find yourself looking for more privacy from your neighbors? Sometimes even the littlest bit of privacy helps us relax better. You should be able to relax much better with new windows treatments from All About Blinds & Shutters. What our Robert, LA blind and shutter company offers is peace of mind.
Curtains and drapes can seem like a lot of work. Sometimes they make a room too hot when closed. And when they're open, they allow in too much sun. It seems that you can never get it right with drapes.
We can change all that for you. Custom fitted blinds, shades, and shutters allows you to have total control. You can manage your window treatments lowering the slats a little or a lot. You let in the amount of natural light that you want.
For better privacy and complete control, call All About Blinds & Shutters. We'll ensure a quality product and craftsmanship that you can appreciate. The ultimate goal, as a homeowner, should be creating a home that you love and one that has value.
Robert Blinds
With Robert windows blinds, you can control the amount of light coming in. Whole windows coverage is available just as well as partial. Blinds are very ideal for areas where television viewing is prevalent.
You won't have to worry about glare and you won't have to worry about 'peepers' looking in from the outside. The sturdy blinds that we install are full-proof. You'll never have to second guess them.
Blinds are very popular window treatment options for most homes in Louisiana. They are durable, affordable, and longer lasting. They also come in motorized options which helps for windows that are too far out of reach.
Robert Shutters
Robert shutters are visually appealing. When you want a widow treatment that stands out, call All About Blinds & Shutters. You should want more customizations in your home in order to retain the value. Louvers come in the following sizes:
Shutters are created with integrity and professional artistry. Your home will look completely different with inter plantation shutters. Just make the call and have us bring the showroom to you. You won't have to waste time or money on gas going out to search for new shutters.
We're the Robert blind and shutter company that cares about their customers. We only want the very best for your home as we carry all major brand names. We believe that quality comes before quantity at All About Blinds & Shutters.
Recent Articles
Custom Window Treatments - Metairie Roman Shades

If you are thinking about redecorating and have decided on new window treatments, you will need to choose whether you wish to buy stock treatments, or custom window coverings. The first difference you will notice between these two is the cost. Custom window shades are considerably more expensive than stock ones. This is because stock…

Read More

Roman Shades for Your Pochatoula Home

Deciding on the perfect window blind design to fit your Pochatoula home? Look no further because Roman shades are just the blinds that you might be looking for. What do Pochatoula Roman shades exactly look like? These are shades that are generally made from woven fabrics that can be lowered down in a cascading fashion.…

Read More

If you are looking for a Robert blind and shutter company then please call 985-727-1525 or complete our online request form.