Chalmette Blind & Shutter Company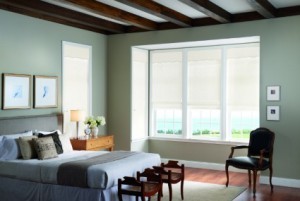 When you seek answers from a Chalmette, LA blind and shutter company in regards to getting new window treatments, contact the experts from All About Blinds & Shutters. We can answer your questions and even come out to show you all what we can do.
New window treatments can serve your aesthetic needs. They make dramatic changes in whatever room they are in as they provide a sense of style and comfort. You'll find all different options in window treatments.
Why custom window treatments over store bought ones? That's easy. Custom window treatments come in all different sizes which means that they can even fit onto your most unique window in the home.
Custom blinds and shutters are quality made. Unlike the ones that you find at local package stores, custom fitted blinds are designed to last. You can select from a handful of different materials to get the window treatments you want.
You won't lose any more energy in the home. Each year we lose more energy through our windows which reflects greatly on the bills. Custom treatments can save you from overspending on your monthly heating and cooling bills.
Chalmette Blinds
Faux wood blinds are the perfect fit for areas that have water conditions present. Bathrooms and kitchens are known to be areas where a lot of water and moisture are present. Faux wood blinds won't warp.
Real woods cannot be installed in these area. Real wood will break as it damages very easily when exposed to water and humidity. Faux is the more durable choice and besides, they are made to look like real wood blinds anyway.
The only downside to faux is that they are heavy so they will need additional support. But for the most part, they are the most economical way to treat a window with class. Call All About Blinds & Shutters for more information.
Chalmette Shutters
Chalmette shutters are something that can make drastic changes in the home. They are some of the most affordable and quality made window treatments available. Interior shutters should be chosen for the following reasons:
Unique style
Added charm to the home
Different sizes and color options
When you need something different for your windows, come to All About Blinds & Shutters and we'll provide you with different options. Choices are what has made us stand out for the last 15 years and more to come.
You cannot beat all that the professional Chalmette blind and shutter company can do. Call us when you need quality blinds, shades, or shutters in your home or office.
Recent Articles
Blinds, Shutters, & Shades For Light Filtering

You may deign to appreciate the direct heat and bright light that flows through windows facing direct sunlight. While light from the sun is often welcomed in your home, it can spoil everything in a variety of ways. The heat coming through your windows will make your air conditioner work harder, raising your energy bills.…

Read More

Make Your Home Eco-Friendly With St. Tammany Polywood Shutters

Apart from the design and structure of a room, details of the interior design will give it personality, beauty and panache. It is therefore important to take the time to consider choices of soft furnishings. Dress Your Windows With St. Tammany Polywood Shutters One main kind of soft furnishing to pull the look of a room…

Read More

If you are looking for a Chalmette blind and shutter company then please call 985-727-1525 or complete our online request form.